Starting a new business can be hectic. Besides hiring employees to help you run it, you're also in charge of all the clerical work necessary to make sure it's up to code with a number of different organizations.
OSHA's regulations are put in place to create safe work environments for workers across a number of industries. They're easy to follow and important to maintain. As long as you take the proper steps to ensure employee safety, you'll be able to avoid the needless fines and citations that are given to business owners who often overlook the rules or are unprepared to enforce them.
Here are a few important safety signs and precautions new employers in the construction, hazardous chemicals and manufacturing industries should know about.
Construction
The construction industry presents a number of hazards to workers daily. According to OSHA, one out of every five injuries or fatalities that occurred in 2014 came from the construction field. These common violations have been dubbed "the fatal four."
Make sure you follow these steps to avoid unnecessary fines:
Falls accounted for 40 percent of all deaths in construction in 2014. Ensure employees are using personal protection equipment, as well as being trained fully in how to effectively use it.
Electrocutions can be avoided by using the correct PPE when dealing with exposed wires, such as class G and class E hard hats, which protect the wearer up to 2,200 and 20,000 volts, respectively, according to Cooper Safety.
Post safety signs around areas with hanging or flying objects to warn employees of hazardous circumstances.
Most accidents can be prevented by simply identifying a possibly dangerous situation, and using safety signs or PPE to prevent it.
Manufacturing
There are many accidents that can occur in a warehouse in the manufacturing industry. Lack of lockout and tagout signs and labels and unsafe use of powered industrial trucks clocked in on the OSHA top 10 common violations list at five and six, respectively. It's important to maintain a safe work environment to avoid any potentially dangerous situations:
Make sure there are safeguards on all machinery.
Post safety signs visibly near high-traffic forklift areas to warn pedestrians.
Follow proper lockout and tagout safety procedures.
If your warehouse deals with moving dangerous chemicals, make sure employees know how to handle them and what to do if there's an accident. It doesn't hurt to post eye-washing station safety signs, and an employee that has to use it will thank you for hanging it.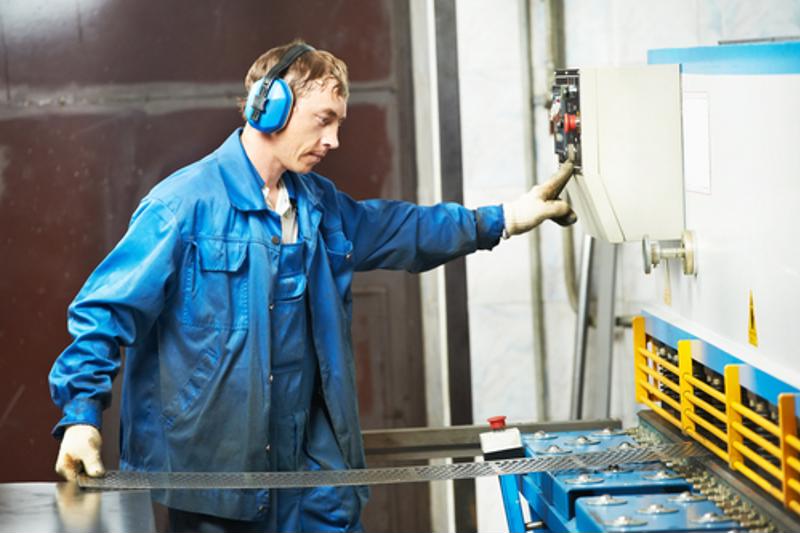 In general, new businesses must hang the OSHA health and safety poster somewhere every employee can see it, like a break room or high-traffic hallway, according to OSHA. If your business employs more than 11 workers at any point in the year, you must also keep records of injury and illnesses by filling out the OSHA injury report form and logging it in form 300. Keeping your workplace safe is easy, it just requires a little bit of planning to do so.
Chemical plant or laboratory
Dealing with dangerous chemicals can result in unforeseeable accidents. Hazard communication was the second most frequently cited violation in 2014, and it's unfortunate because it's so simple and easy to stay up to code:
Post safety signs to clearly identify areas where corrosive, toxic, radioactive, flammable or explosive chemicals are.
Make sure employees are wearing PPE like gloves, safety goggles and masks to prevent any inhalation or contact with unsafe chemicals.
OSHA requires employers to relay pertinent information to workers when they work with hazardous chemicals. You must make it clear which chemicals are toxic, how dangerous they are and outline actions they can take to prevent exposure or isolate injuries if they come in contact with them.
Working in a laboratory or chemical plant means the most strenuous precautions must be taken. Err on the side of caution, even if the chemicals won't cause any adverse side effects.